What are your breathing?
Being exposed to environmental pollutants pose varying degrees of risk. Some risks are simply unavoidable. The good news is indoor air pollution is one risk that you can do something about. Find out more about what you are breathing and how to improve the indoor air quality (IAQ) around you.
Air quality testing investigation focuses on the performance of the ventilation systems in delivering fresh air and thermal comfort control to each area, and on the evaluation of potential emission sources for chemical and biological contaminants.   The testing includes the measurement of the comfort parameters of carbon dioxide, carbon monoxide, temperature and relative humidity, and air sampling for microbiological fungi and volatile organic compounds.  A summary of the testing benchmarks is included the table below.
     Air Quality Testing Parameters and Benchmarks:
CO2
CO
Temperature (Summer)
Temperature (Winter)
Relative Humidity
Mold
TVOC
Formaldehyde
Particulates (PM10)

<600 ppm above Outdoor Levels
<9 ppm
73° to 79°
69° to 75°
30 to 60 %
Similar to Outside
0.20 mg/m³
0.05 ppm

0.150 mg/m³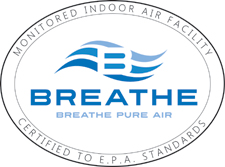 Join the Revolution!
Breathe Tested Air
Call 908-310-9539
or Contact us today!
To find out how you can become more socially responsible.